Overview
Plantar fasciitis is a common cause of heel pain in adults. The pain is usually caused by collagen degeneration (which is sometimes misnamed "chronic inflammation") at the origin of the plantar fascia at the medial tubercle of the calcaneus. This degeneration is similar to the chronic necrosis of tendonosis, which features loss of collagen continuity, increases in ground substance (matrix of connective tissue) and vascularity, and the presence of fibro-blasts rather than the inflammatory cells usually seen with the acute inflammation of tendonitis. The cause of the degeneration is repetitive microtears of the plantar fascia that overcome the body's ability to repair itself.
Causes
Causes can be by one or a combination of foot activity overloads. Jogging, climbing, or walking for extended periods puts too much stress on the plantar fascia. But even routine, non-athletic activities such as moving heavy furniture can set off pain. Some kinds of arthritis are also attributed to plantar fasciitis. Certain arthritic conditions cause the tendons of the heel to swell. Diabetes is also a culprit- there is still no explanation why, but studies have repeatedly shown that diabetics are more prone to developing plantar fasciitis. In some cases, plantar fasciitis is triggered by shoes of poor quality or shoes that do not fit. Those with thin soles, no arch support, and no shock-absorbing properties, for example, do not five feet enough protection. Shoes that are too tight and those with very high heels can also cause the Achilles tendon to tighten, straining the tissue surrounding the heels.
Symptoms
Patients experience intense sharp pain with the first few steps in the morning or following long periods of having no weight on the foot. The pain can also be aggravated by prolonged standing or sitting. The pain is usually experienced on the plantar surface of the foot at the anterior aspect of the heel where the plantar fascia ligament inserts into the calcaneus. It may radiate proximally in severe cases. Some patients may limp or prefer to walk on their toes. Alternative causes of heel pain include fat pad atrophy, plantar warts and foreign body.
Diagnosis
To arrive at a diagnosis, the foot and ankle surgeon will obtain your medical history and examine your foot. Throughout this process the surgeon rules out all the possible causes for your heel pain other than plantar fasciitis. In addition, diagnostic imaging studies such as x-rays or other imaging modalities may be used to distinguish the different types of heel pain. Sometimes heel spurs are found in patients with plantar fasciitis, but these are rarely a source of pain. When they are present, the condition may be diagnosed as plantar fasciitis/heel spur syndrome.
Non Surgical Treatment
Stabilize the foot by using uniquely placed wedges, deep heel cups, and "posts" (stabilizers). When the foot is stabilized, it is brought back to a neutral or normal alignment. When the foot is in its normal alignment, pronation and supination are reduced or completely corrected, and the abnormal pull on the Plantar Fascia is alleviated. This will allow the Plantar Fascia to begin to heal. When healing occurs, the pain and inflammation gradually subside. Provide the specific amount of arch support that your foot requires. Our custom-made orthotics support not only the arch as a whole, but each individual bone and joint that forms the arch. Whether your arch is flat or abnormally high, our custom-made orthotics will provide the support that you need. When the arch is properly supported, the Plantar Fascia is protected and healing can begin. Aid in shock absorption. The primary shock absorbers of our feet, and therefore our body, are the Plantar Fascia and the arch. To aid these structures, we construct our custom-made orthotics so that they provide semi-flexible support to the arch by "giving" to absorb the shock of each step, rather than our foot absorbing the shock (our orthotics act in the same way a shock absorber does on an automobile). When your weight is removed from the orthotic, the arch returns to its original height since the material we use has a built-in "memory." This action will help to keep the Plantar Fascia and arch healthy and pain free. Cushion the heel. Our custom-made orthotics use thin, cushiony, durable, materials to cushion and protect the heel. This helps to alleviate painful heels.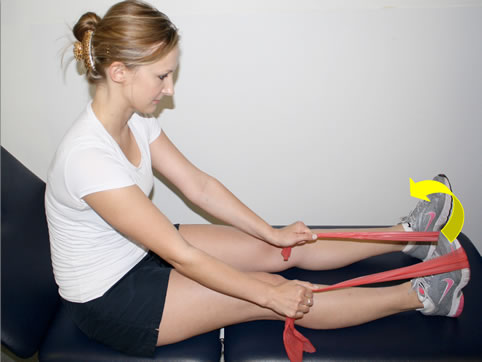 Surgical Treatment
Surgery should be reserved for patients who have made every effort to fully participate in conservative treatments, but continue to have pain from plantar fasciitis. Patients should fit the following criteria. Symptoms for at least 9 months of treatment. Participation in daily treatments (exercises, stretches, etc.). If you fit these criteria, then surgery may be an option in the treatment of your plantar fasciitis. Unfortunately, surgery for treatment of plantar fasciitis is not as predictable as a surgeon might like. For example, surgeons can reliably predict that patients with severe knee arthritis will do well after knee replacement surgery about 95% of the time. Those are very good results. Unfortunately, the same is not true of patients with plantar fasciitis.
Prevention
Make sure you wear appropriate supportive shoes. Don't over-train in sports. Make sure you warm up, cool down and undertake an exercise regime that helps maintain flexibility. Manage your weight, obesity is a factor in causing plantar fasciitis. Avoid walking and running on hard surfaces if you are prone to pain. You should follow the recognized management protocol - RICED-rest, ice, compression, elevation and diagnosis. Rest, keep off the injured ankle as much as possible. Ice, applied for 20 minutes at a time every hour as long as swelling persists. Compression, support the ankle and foot with a firmly (not tightly) wrapped elastic bandage. Elevation, keep foot above heart level to minimize bruising and swelling. Diagnosis, Consult a medical professional (such as a Podiatrist or doctor) especially if you are worried about the injury, or if the pain or swelling gets worse. If the pain or swelling has not gone down significantly within 48 hours, also seek treatment. An accurate diagnosis is essential for proper rehabilitation of moderate to severe injuries.